Hayward K Flo high efficiency pool pump
Hayward K Flo pool pump is a circulation pump for swimming pools, with high efficiency and very quiet operation. This K Flo Single Speed Mono Phase Pump is a further development of the Kripsol Koral pump.
Technical characteristics of the K Flo swimming pool pump
Because it's a further development of the Kripsol Koral can be easily replaced. The Koral is also made in the cream color, gray color and also in a blue color - this is the same pump. You can therefore easily replace these swimming pool pumps with the new K FLo from Hayward.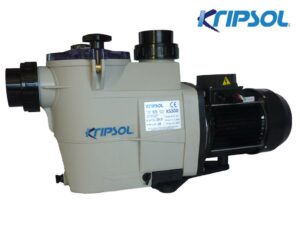 Economical and very well designed pool pump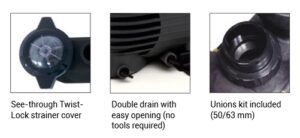 It transparent lid of the swimming pool pump is made in such a way that you can easily open it with a quarter turn and close it again in the same way. Leaks from the cover of the pump's pre-filter are thus avoided. On the other hand, it is very easy to see whether there is dirt in the pre-filter of the swimming pool pump. In other words, you do not have to open the lid unnecessarily to check whether there is dirt in the filter basket.
You can also easily empty it at the bottom of the pump to prevent damage in freezing weather. You can unscrew the plug from the pump without tools.
Included in the packaging of the Hayward K FLO pool pump always connections in diameter 50mm and 63mm. This ensures that the connection with the swimming pool installation is very easy, unlike most other swimming pool pumps.
In summary, this pool pump has been developed and equipped with the best and most convenient new features for a good pool filtration pump.
Which pool pump do you need?
The power of the pump is determined by the volume of the pool.
For example: a swimming pool of 50m³ can best be pumped around 3 times in 10h = 150m³ / 10h = 15m³/h It is therefore best to choose a pump that pumps 15m³/h. These flow rates are determined with a certain resistance (pipes, bends, filter, etc…). We express this in head. By hand we calculate with a head of 10m.
The K Flo 0.33pK pumps 7 – 10 m³/h for a swimming pool up to 20m³
A K Flo 0.5pK pumps 10 – 12m³/h for a swimming pool up to 30m³
K Flo 0.75pK pumps 13 – 15m³/h for a swimming pool up to 45m³
The K Flo 1pK pumps 15 – 18m³/h for a swimming pool up to 60m³
And a K Flo 1.5pK pump 22 – 25m³/h for a swimming pool up to 75m³
Be sure to choose a pump that matches the filter you have. So if you have a filter with a diameter of 400mm, it makes no sense to install a 1.5pK pump. Here's an overview:
If you have a sand filter up to 400mm, choose the K Flo 0.33 – 0.5pK
For a sand filter up to 500mm, choose the K Flo 0.5pK
With a sand filter up to 600mm, choose the K Flo 0.75pK
For a sand filter up to 700mm, choose the k Flo 1pK
For sand filters larger than 700mm, choose the K Flo 1.5pK swimming pool pump
In other words, the good combination of pump and sand filter will ensure that you have a good flow rate of the pool water. In summary, a good flow rate in the sand filter will ensure crystal clear water.
TIP : do you want to make your green swimming pool water clear and ready again? Read our advice and tips.
Technical properties of the K Flo filter pump
Quarter-turn transparent screw lid - no hand tools required to open
Vanes and distributor made of extremely strong Norlyl, resulting in very hard, resistant and corrosion-free material
This pool pump is compatible with chlorinated water and saltwater pools
In addition, K Flo can replace the Kripsol pump 1 on 1 without modifications
Connection pieces supplied with the pump, in other words easy to connect
Different pumps for swimming pools from 20 – 85m³
The acquisition of pump and polyester filter manufacturer Kripsol by Hayward in 2016.
In order to be able to produce in the local swimming pool market and to serve European countries well, Hayward industries took over the Spanish Kripsol in 2016. Kripsol is a well-known producer of pool pumps for private and private swimming pools. Fiberpool, a division of Kripsol, is a specialized producer of polyester fiberglass filters.
As a result, Hayward strengthens its European presence in the swimming pool industry. As a result, Hayward will share its pumping expertise with Kripsol. In return, Kripsol/Fiberpool will share its fiberglass sand filter expertise for swimming pool water filtration with Hayward.
In other words, this strategic acquisition is very valuable information for you as a customer. This certainly gives us a lot of confidence that we have made a very good choice with Hayward, the former Kripsol.
CHOICE OF A PROFESSIONAL : as a professional installer, we have been loyal to these 2 brands for years. All our swimming pool installations are equipped with a Kripsol Koral pump or a Tri Star Hayward pump. Obviously, this new K Flo pool pump our first choice for your swimming pool filter installation.
You can read all about it in the article of Eurospapoolnews : HAYWARD acquires KRIPSOL for further developing in Europe