Humble One outdoor table lamp
Humble One outdoor table lamp waterproof IP65 table lamp. Can be used both outdoors and indoors. Retro design lamp in different colors.
table lamp design that places the lamp centrally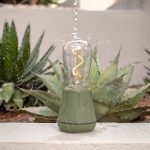 The outdoor design table lamps from Humble are made in 4 earth tone colours.
Moss green
Beige
Black
Cinnamon orange / brown
That is why they fit in many classic exterior designs with wood and earth tones. The design of the table lamp emphasizes the retro lamp (with E27 socket = replaceable). This retro wireless table lamp glows like an old-fashioned lamp.
In addition, this type of Humble One is completely waterproof. You can therefore use the lamp at the swimming pool or, for example, in the pool house or on the garden table.
You can operate the lamp at the bottom and adjust the brightness. There is also a remote control with which you can dim the lamp but also operate several lamps at the same time: the Humble Remote Control.
Different types of Humble lamps
Humble has various table lamps in its range. All characterized by a beautiful design.
Easy to use outdoor table lamp
This Humble One Outdoor gives up to 140 hours of light when fully charged. Charging takes about 4 hours. Charging is easy wirelessly with a QI charger or with a cable with USB-C connection.
USEFUL : We collected all info, FAQs, Blogs and videos about the table lamps on 1 clear page.
Technical specifications of the Humble lamp
Use : indoors or outdoors - waterproof IP65
Dimensions : D 8.5cm H 19.5cm
Weight : 0.31kg
Lamp : E27 low-voltage bulb - dimmable
Power : >1W, 3V
Dimmable

Candle 8 lumens
Ambient 16 lumens
Work 43 lumens

Battery capacity : 4000mAh / 3.7V
Charging cable : USB-C to USB-A
Operation : push button at the bottom of the lamp base
Charging time : 4h with USB cable 6h with a Qi wireless charger