Heat pump AQT Inverter → now replaced by AQT inverter PRO
The Heat Pump AQT Inverter is our own heat pump and the newest in our range. This full inverter heat pump is built with the latest technologies, making it an intelligent control device for your swimming pool. You can set this intelligent pool heating to the most efficient return of the moment. This is possible due to the perfect adjusting the speed. For example, your AQT Inverter Heat Pump will rarely run at 100% capacity unless the pool requests or needs it.
Because this full inverter does not always run at full 100%, we can significantly reduce consumption and noise level compared to a classic on/off heat pump.
This technology allows the COP value on average between 6 and 9 at an air temperature of 15°C and a water temperature of 27°C.
why choose the aqt inverter?
The full inverter heat pump from AQT is the cream of the crop on the current market in terms of efficiency and innovation. The heat pump works with the most advanced stepless variable inverter technology compared to stepped inverter frequency in most other models on the market. This technology ensures that your heat pump always works cost efficient works all season, both in spring and autumn. By using high quality components for the compressor (Toshiba) and a titanium heat exchanger we can give a long warranty of up to 6 years on these parts.
Due to the extremely quiet noise level, you can enjoy your swimming pool in peace without the disturbing noises of a classic swimming pool heating.
In addition, our heat pump enjoys a certified A-energy label. The specifications of this inverter are TUV certified.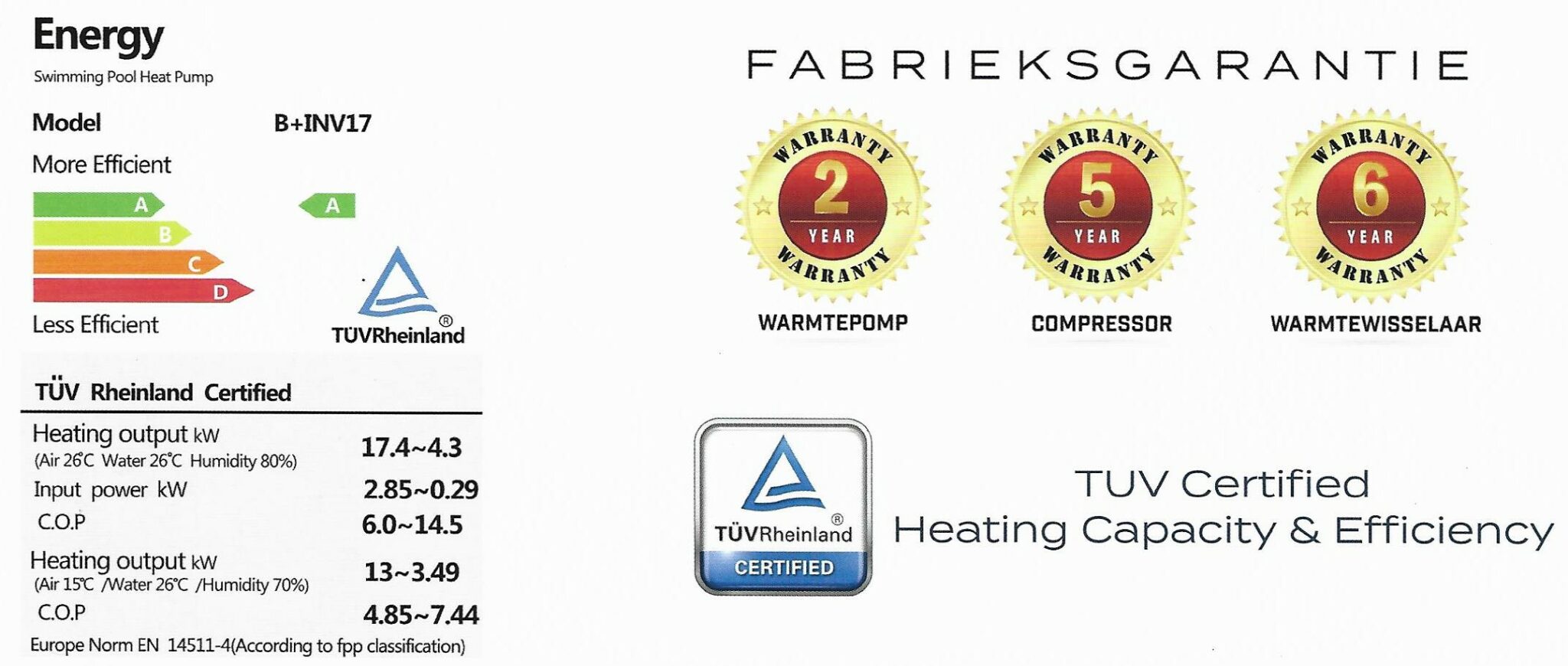 In the winter months you can perfectly cover the pump with a high-quality winter cover so that it does not have to suffer from the extreme weather conditions.
what is the yield?
The efficiency is at least 70% higher than that of a classic on/off heat pump and even 50% higher than a standard inverter heat pump. In concrete terms, this means that you pay for 1 kW of heat and you can get 16 kW of heat back. Thanks to this technology, this heat pump has a much longer lifespan.
TIP : we collected all the information on the pool heat pump info page.
benefits product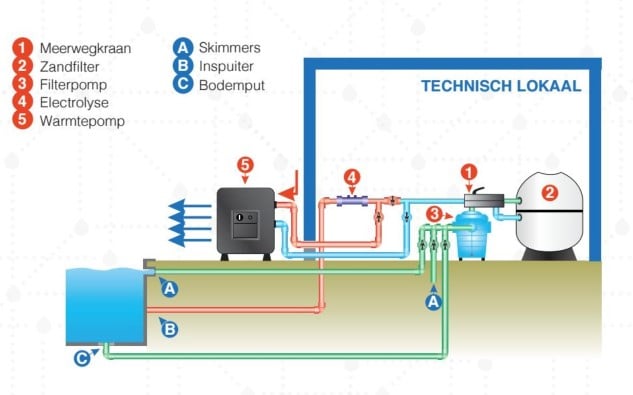 unique design with ABS housing
standard equipped with pressure gauge and winter drain
automatic and fast defrost cycle
3 functions : boost, smart and silence
effective down to -7°C
very easy operation through a simplified controller
A+ energy label (TüV certified)
technical features
R32 gas for higher efficiency
very low noise level
full inverter technology (both for compressor and fan)
APP control via smartphone : control and adjust parameters remotely
COP > 15
twin rotary compressor
reversible
WHAT comes standard with our inverter heat pump
Winter cover
Rubber feet against vibrations
Coupling pieces D 50mm
Drain hose for the condensation water
" Enjoy your swimming pool in your garden in peace and quiet "