Fairlocks swimming pool vacuum cleaner for professional and private use.
We can say with certainty that this Fairlocks pool vacuum cleaner the most efficient bottom dredger on the market!
Properties of the Fairlocks – bottom suction dredger
47 cm wide.
equipped with two rubber strips.
equipped with a spring-loaded brush.
is weighted over the entire width.
both for professional and private use.
foldable in the middle at an angle of 90°.
suitable for polyester, liner and mosaic pools.
equipped with a piston made of very strong plastic material. equipped with a snap-in attachment at the front telescopic stick (blue Adapter, normally not included as standard, WITH US IT IS!).
Our Fairlocks is rightly our most sold item. Do not compare this vacuum cleaner with cheap plastic vacuum cleaners. This device is used by our people for swimming pool maintenance and has been specially developed for professional use.
TIP! for this appliance you need a vacuum cleaner flexible, for connection to the skimmer. Also available in our range.
Unique concept - Fairlocks vacuum cleaner folds 90° in the middle

The unique thing about the Fairlocks pool vacuum cleaner is that it folds in the middle of the device. The vacuum cleaner folds 90°. This allows you to vacuum perfectly in the corner. There is also a spring-loaded brush in the middle, which allows you to make the bottom extra clean. The springs also ensure that you can vacuum over uneven surfaces without difficulty.
Universal connection.
The Fairlocks comes with an Adapter. This blue adapter ensures that you have the Fairlocks can easily be attached to the telescopic pole. The suction piece is also universal. You can therefore connect any vacuum cleaner hose with a diameter of 38mm to the Fairlocks. So if you already have a manual vacuum cleaner, you can perfectly replace it with these Fairlocks.
Professional pool vacuum cleaner.
All components of the Fairlocks suction dredger you can buy separately. This means that you will be able to use the device for many years. We regularly repair Fairlocks that are more than 10 years old! The manufacturer consciously chooses to only produce this vacuum cleaner.
Double fairlocks pool vacuum cleaner for public swimming pools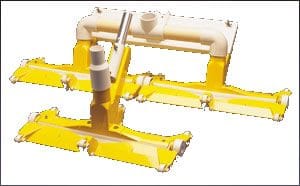 The Fairlocks is also used in a double version in public swimming pools. For this you need special connectors and a flexible vacuum cleaner of 50mm instead of 38mm.
1 box contains 12 pieces. There is a quantity discount per box.