Design wood storage Bruges
This wood storage Bruges design wood storage system for the garden in the form of houses "Wood storage Bruges" was designed by the Belgian designer Jan Kuppers (Kuppers & Wuytens). Their design is based on the typical streetscape of houses in Belgium/Bruges.
Construction of Bruges wood storage system
Bruges wood storage is 3.8m long and 1.9m high and made of 3mm thick Corten steel. It consists of 3 "houses – compartments" with gable roof. This design storage system is supplied in a kit. Assembly is simple and the handy Harry succeeds in just 1h! There are also beautiful ones BloXX garden benches from the same manufacturer.
Multifunctional wood storage space
In addition to a handy and functional storage system for firewood, it is also a stylish, durable and well-thought-out garden decoration that can be placed prominently and visibly in the garden. The design of this naturally rusted Corten steel storage system in combination with wood ensures that this wood storage system fits into different gardens and a green environment comes into its own.
Properties wood storage Bruges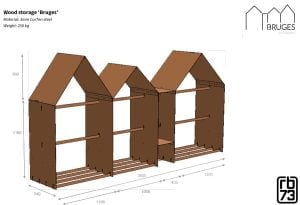 Dimensions : L 380 cm x H 186 cm x D 74 cm
Weight : 350 kg
Package : 3 modules + spacer