Net Spa Spa Vita
Netspa Spa Vita 4 persons is an extraordinary spa with insulating building blocks. This Netspa is a variant of our inflatable models. Due to the handy construction of the blocks, you can easily build or move this spa. An advantage over an inflatable spa is that there is less risk of leaks. And also offers extra strength. So relax with its air jets that offer a comfortable massage.
filter pump
The Netspa Spa Vita has a powerful motor block that is equipped with an energy-saving temperature control. The pump has 3 functions, namely: heating, massage and filtration.
This spa can heat you at a rate of 1.5-3°C per hour. The filter pump can be easily connected and disconnected very quickly and easily.
Components
All necessary parts are included in this package.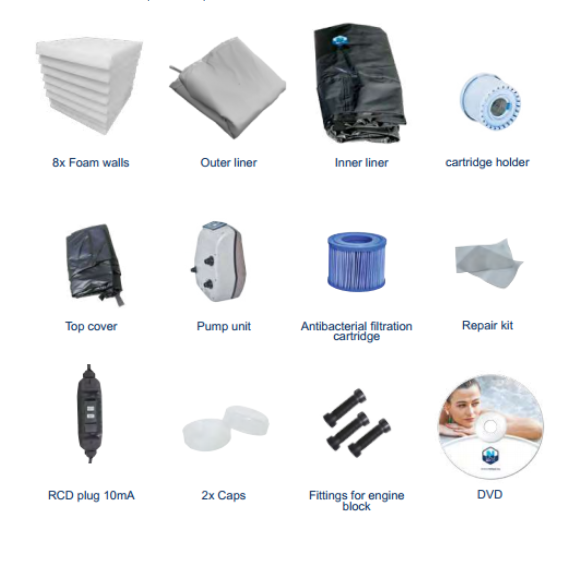 Fast installation
Setting up this spa is very simple, the blocks are easy to build. You place the outer liner on the ground with the blocks scattered in it. Then the inner liner comes in and simply zips. In no time it is ready to fill.
Safe
The spa has several safety features. Including a residual current circuit breaker with lage intensity differential current external power supply (10mA)
The spa is also equipped with a secure lock with special clamps and dbubble insulated electric heating unit. You can lock the control panel and there are 3 types of backflow protection.

Maintenance
A spa is fairly easy to maintain. Our advice is to change the water at least every 3 months. Always provide sufficient disinfection (chlorine) with a stable PH value.
All necessary spa products can be found with us. You can extend the life of the pipes enormously by using AquaFinesse.
If you want to automate the control of your water, the ondilo ico something for you. This measures, monitors and gives you advice on the dosage of the products.