Ocean drive poncho kids
Ocean drive poncho kids. Originele kleurrijke & duurzame poncho's. Gemaakt in zeer hoge kwaliteit badstof en met aandacht voor de Ocean Clean-up acties.
Duurzame badstof poncho
Poncho vervaardigd uit zijde zachte hoge kwaliteits badstof. Elegante en modieuze badjas ontwikkeld met kwaliteit als uitgangspunt. De stof is super zacht en super licht. Gemaakt van kwalitatief hoogstaande badstof die ontzettend snel droogt. Hierdoor heb je een mooie en functionele poncho voor uw kinderen, die ze kunnen aantrekken na het zwemmen, douchen, surfen, na het spa bad of na de sauna. De badjas zorgt er voor dat u in geen tijd helemaal droog bent.
Er is ook een Badstof Poncho voor volwassen dames en heren.
Kwalitatieve eigenschappen van de badstof badjas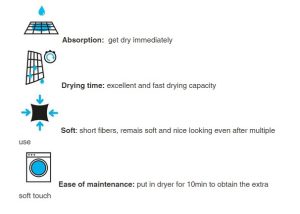 Poncho kids – one size fits all
Leuke, levendige en modieuze kleuren
One size fits all
B 53cm x L 93cm
Sterk absorptie van het water/vocht
Sneldrogend
Zijde zacht ook na vele malen wassen
Eenvoudig in onderhoud (10min. in de droogkast maakt de poncho heerlijk zacht)
De poncho wordt geleverd in een eenvoudig katoen zakje
Met kap om je lekker in te duffelen
Met handig opbergzakje vooraan de poncho
The Ocean Clean-up
The Ocean Clean-up is een  NGO die technologieën ontwikkeld en schaalt om de oceanen en rivieren van plastic te ontdoen
Elk jaar komen miljoenen tonnen plastic in de oceanen terecht, waarvan het grootste deel uit rivieren komt. Een deel van dit plastic gaat naar de vuilnisbelten in de oceaan, waar het terechtkomt in een werveling van circulerende stromingen samen met plastic uit andere bronnen (bijvoorbeeld visserijactiviteiten op zee). Als er geen actie wordt ondernomen, zal plastic een steeds grotere impact hebben op onze ecosystemen, gezondheid en economieën.
Wanneer u de Ocean Drive Poncho aanschaft ondersteund u dit NGO project met een deel van opbrengst.