Escape P6 top music
The Escape P6 is one splash-proof design speaker for the pool, in the garden, in the pool house or on the terrace of a bistro or restaurant! This outdoor box has the same unique features as its big brother, the Escape P9. This outdoor speaker is made of the best materials to listen to your favorite music in style.
The performance and beautiful design are unparalleled. With this bluetooth speaker you can enjoy the perfect balance between low, middle and high tones. This is achieved by the 2 exclusive and custom-made speaker drivers (exactly the same as its bigger brother the P9) and a 17cm large diameter subwoofer.
The 360° clack reproduction is the result of a high-performance 60 Watt digital amplifier and a powerful 24-BIT DPS processor.
TOP features of the outdoor speaker

Weatherproof and splash-proof IPX4
16h battery autonomy
High End portable speaker system
360° sound
Escape P6 outdoor speakers specifications
Dimensions H 550mm x W 200mm x D 200mm
Weight 7.5kg
Digital amplifier power 60 watts RMS
Powerful 24bit DSP processor
Impressive BASS reproduction with a Subwoofer with a diameter of 6.5 inches (17cm)
Bluetooth 5.0 receiver
Remote APP for iOS and Android (Download the APP here)
Twin mode to combine 2 Escape P6 BT
Powerful rechargeable battery

16h wireless listening pleasure as background music
8h wireless listening pleasure at normal sound level

Charging time
Escape P6 loudspeaker APP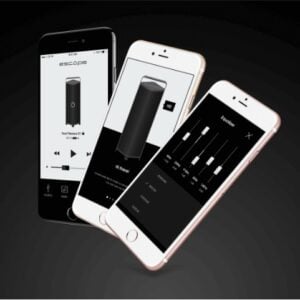 You can use a specially designed APP to operate your speaker. Available for both iOS and ANDROID devices. In addition, you can choose the music source, Spotify, Deezer, Apple music, etc. Via the simple 5.0 bluetooth connection you can play your favorite music in no time.
Via the app you can turn the Escape speaker on/off, louder or quieter, there is an equalizer and you can have different speakers play together.
READING TIP : The Escape P6 is one of our top 5 Pool Party Musthaves, read all about it in our BLOG.