SEA Tasman 50m garden hose
The ZEE Tasman 50m is a modern and sleekly designed garden hose on a hose trolley. A beautifully designed product from the collection of SEA designed by Alan Gilles. He designed the Tasman as one strong, practical and elegant very high quality product. The garden hose has an ideal length of 50 meters. The TASMAN reel trolley is a simple, sturdy and functional product with a redesigned line that will make your garden and terrace very beautiful, modern and attractive.
Garden hose cart beautiful and functional
The ZEE Tasman 50m has a handle that forms the structural spine of the Hose Trolley. This gives the reel trolley its unique and recognizable profile. Particular attention has been paid to details and finishing, which makes the garden hose appear sober and timeless. By also working with curves in the finish, this ZEE Tasman radiates warmth. The galvanized steel frame and components make this garden hose trolley one of a kind very strong garden hose. The steel has a thick, matte powder coating, which makes the Tasman not only beautiful, but also weather resistant.
The large wheels ensure that the trolley rolls easily, regardless of the surface. Thanks to these large wheels, the garden hose do not sink into the grass or leave tracks. Moreover, you can easily overcome obstacles with this garden hose.
The Tasman is supplied with a spout and a 5-position spray gun. It is available in white and black.
TIP : the Tasman also has a matching one Levantine outdoor shower in the same sleek design form. Available in both WHITE and BLACK.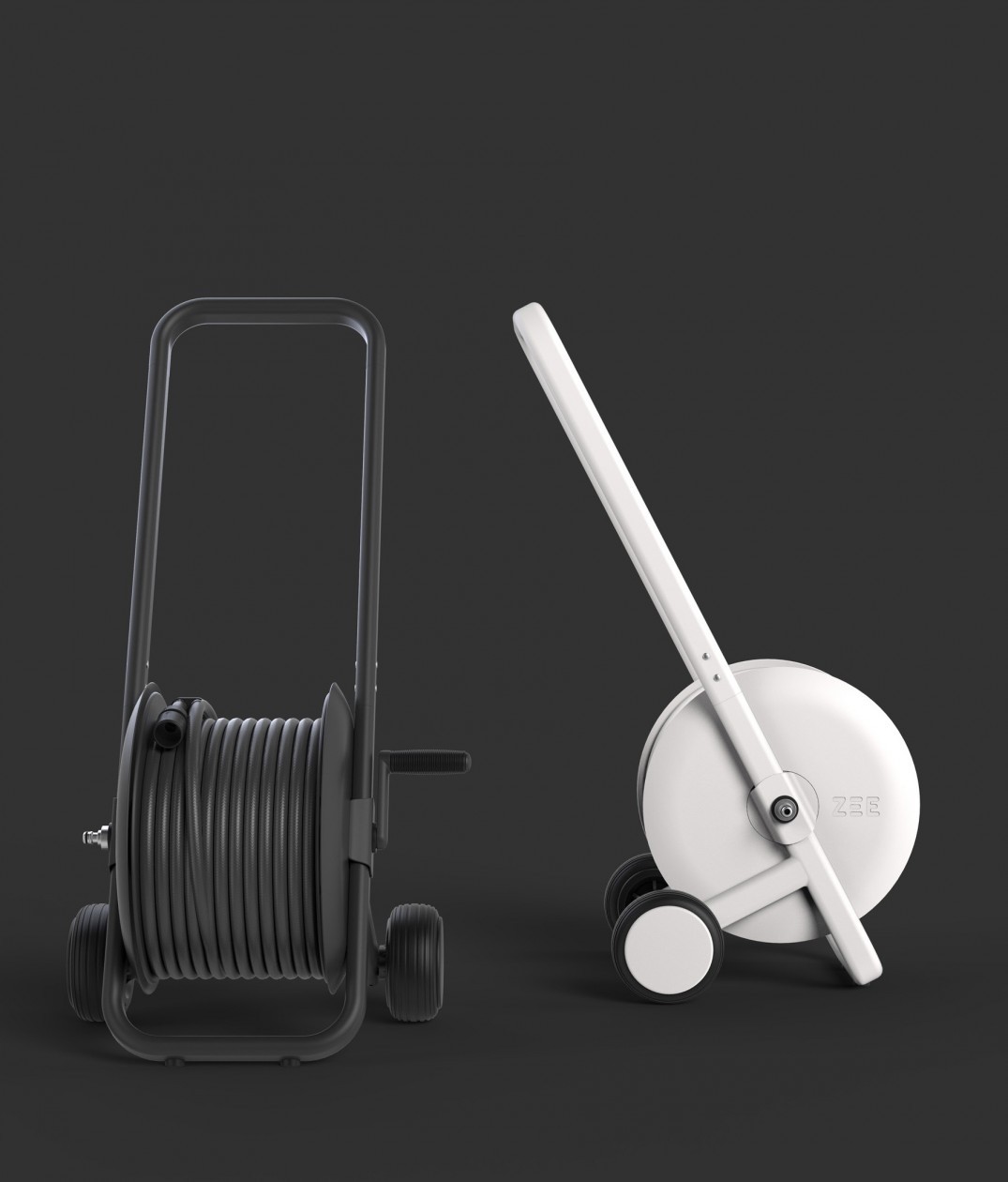 features of the garden hose cart
 materials : trolley made of galvanized and powder coated steel, handle zmac, wheels pp, pvc hose of 50m
 dimensions: H97 x W53 x D57 cm
 weight: 19 kg
 ZEE Tasman 50m colors : white and black
 warranty : 2 years
inclusive

sprinkler 5 positions
garden hose sprayer
50m water hose 1/2″
garden hose cart
storage cover
3 connectors
tap connection 1/2", 3/4" and 1"
hose clip to hold the garden hose in place