Activated carbon Norit PK 1-3 for water filtration
Norit PK 1-3 is an activated carbon type that is mainly used in swimming pool water and drinking water purification.
Properties of activated carbon
The activated carbon will clean the pool water decolorize, remove the smell and taste. This filter carbon will, among other things, also reduce chloramines in the pool water. However, active chlorine will also be removed from the pool water.
Application of activated carbon in swimming pool filtration
In public or semi-public (hotels – wellness centers) swimming pool filtration, this filter material is used in so-called "multi-layer" filters. These are pool filters with different layers. Typically, gravel is placed at the bottom of the filter, finer gravel on top, then the filter sand and Activated carbon or Hydro anthracite as a top layer.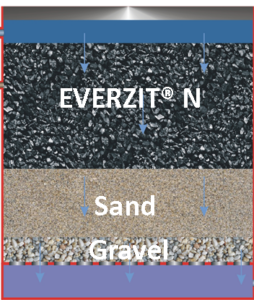 Quality carbon from Norit PK 1-3
Activated carbon is made by a thermal treatment (treatment with steam gas) of coal. This thermal treatment ensures that all impurities disappear from the coal and that the coal has a very high absorption capacity gets. Producers of filter carbon are Chemviron, Norit, Desotec.

The Norit PK 1-3 that we sell is drinking water quality. The carbon meets various strict European and American quality standards. This carbon can therefore also be used for drinking water production (the BRITA filters will be known to the general public). The activated carbon can also be used is also the type used in aquariums.
Packaging
Norit PK 1-3 Activated carbon is packed in bags of 12.5 kg. There are 40 bags on a pallet.