Swimming pool meter app – Ondilo ICO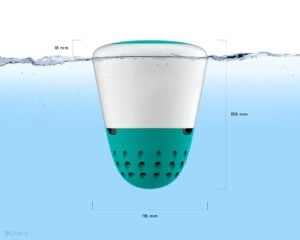 The pool meter app, called the Ondilo ICO, is the ideal water meter for your swimming pool.
As soon as you place the pool tester in the water, the pool meter measures and anticipates and adjusts its advice.
The pool tester continuously checks the water quality. After installing the app on your smartphone, you will receive notifications. The app is available for IOS and Android. By linking it to the weather forecast, the ICO anticipates changes in the water balance.
Thanks to the easy-to-read app, you know exactly how your pool water is doing 24/7.
You will receive notifications when the values deviate too much and you need to take action.
For example, the app indicates how much pH minus or pH plus you need to add to restore your pH value.
During the installation of the ph meter you must enter the values of your pool (dimensions and volume).
So based on that, the chlorine meter can perfectly tell you how much to dose.
The app also indicates when you need to do a chlorine shock.
In addition, tips are also given so that your pool water is always perfect and you can swim carefree.
Benefits of the Ondilo ICO
simplifies clear and healthy water
unique easy-to-replace sensors
USB rechargeable battery (1 full charge per season)
Characteristics
Ondilo ICO – app

the connected ICO is compatible with chlorine, salt and bromine treated pools

measurement : temperature, ph, disinfection (ORP), conductivity, TDS (salt)
analysis data : weather conditions, alkalinity, water hardness, stabilizer
battery 5V rechargeable via USB (1x per season)
unique encapsulated plug and play sensors
sensors are pre-calibrated
material is UV and chlorine resistant
the water meter also works under the cover and fits in the skimmer
waterproof according to IP68 standard
communication : Wifi + bluetooth or Sigfox + bluetooth (bluetooth from version 4.0)
app available in iOS and Android
integrated artificial intelligence for complete, preventive and personalized analytics via the app
professional monitoring software, free use during the first year
professional monitoring software for control of multiple pools including history, water quality, instructions and alarms
made in Europe
ICO according to certified CE standards : EN 300.328, EN 301.489-1, EN 301.489-3, EN 301.489-17
Smart home award at CES in Las Vegas 2017, award at Health & Invironnement Green Tech contest, nominated for German Design Award 2018
ICO warranty : 2 years on the device, 1 year on the sensors
CAUTION : do not use if the pool water is below 5 degrees !!