Choosing the best infrared patio heater is not always easy if you are not so familiar with this matter and products. That is why we are happy to help you best choice make using 5 simple questions and solutions. Find out which the best infrared heater is for your terrace.
How do I choose the best infrared patio heater in 5 easy steps
1. How do I choose the right type of IR patio heater?
Choose the best IR patio heater type based on the place where you want the radiant heat. If you want infrared heat in an outdoor lounge or at a table, choose a standing IR radiator. If you prefer heat over a large surface under a covered terrace, then choose an IR hanging model or an infrared radiator for the wall.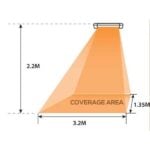 An overview of the different choice of infrared patio heaters:
IR hanging model patio heater suitable for above a table with mounting on the ceiling
Infra-red wall or ceiling model the best choice for mounting on a beam of a covered terrace
Infrared standing radiator the most suitable choice for a table or garden lounge
IR table model for heat radiation on, for example, a lounge or side table
Take into account a distance of 2.2m to 2.8m from the IR radiator. A standing radiator provides a HORIZONTAL radiation, ideal for example along a garden table or a garden lounge. The best infrared radiator for a salon is the Infrared standing heater Dark Valencia Lounge 3000
The hanging radiators will VERTICAL down to give off their heat a circular or rectangular zone.
You can also direct the wall and ceiling models to the zone where you want the heat. If you want to be able to direct the heat radiation on the terrace properly, choose a standing radiator or an IR heater with wall mounting and bracket.
2. Do I choose a remote control for my infrared heater or not?
When you use the infrared patio heater mounted on the ceiling or at a height over 2.2m (recommended height). the best infrared heater one with a remote control. Private use has been simplified by working with a remote control or APP, which ensures great ease of use and simple installation.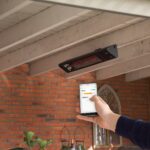 On a catering terrace, IR radiators are usually connected to switches. This requires an installation by an electrician. Then you can turn them on and off with a push button and switch in the wall. For a simplified use we have the ideal alternative de Sunred Professional Smart Heater 2500 patio heater . You can until Connect 7 devices with the APP which makes operating different zones very easy.
Here you will find an overview all infrared patio heaters with remote control. The three properties; designs, ease of use and quality are the focal points of it brand SUNRED that we sell.
As the best alternative infrared radiator without remote control, you can choose a model with, for example, a rope switch. This way you can still easily operate a device that hangs from the ceiling. Our Bright Barcelona Hanging radiator is a cheap device with a string to turn it on and off.
If the electric heating is adjustable with different strengths, you can also do this with the remote control set in steps.
3. How many watts of infrared do I need for my terrace?
A first simple rule of thumb is that you approx You need 100 watts per square meter of terrace. In other words, the best infrared patio heater for 15m² is a 1500 Watt strong IR radiator. There is a small deviation depending on the type of IR radiation lamp. The latest new trend are low-light IR emitters LOW Glare emitters or the full black Sunred Nero Wall IR emitter e.g. The best infrared LOW GLARE radiator is 150 watts per square meter. watts is the unit used to express the strength of electrical appliances.
"The rule of thumb here is, the less light an IR emitter produces, the less strong the infrared heat radiation will be."
A second simple rule of thumb is that with a CLOSED terrace or a INTERIOR SPACE about 75 – 100 watts infrared heating. At one OPEN terrace is 125 – 150 watts infrared power is sufficient to create a wonderfully warm feeling.
In summary, best infrared wattage per square meter
75 – 100 watts standard infrared front INTERIOR SPACE per square metre
100 watts standard infra-red per square meter  open terrace
125 – 150 watts standard infrared front OPEN TERRACE per square meter
150 watts

low glare

infra-red per square meter  open terrace
4. How much light does an infrared heater for a terrace give?
Depending on the infrared technology, the infrared patio heater will give more or less light. The light is annoying because of the glare. But also the orange light glow is not always pleasant. To avoid this, the best low glare infrared emitter (low glare) emitter for the terrace. Because our black infrared panels for the terrace produce less heat radiation, the Rose Gold Carbon the best-selling infrared patio heaters. Despite the fact that they produce much less light, they still emit strong heat radiation.
An overview of the different infrared techniques:
The black heat panels are very stylish and do not produce orange light. Due to the closed design, they will produce slightly less heat radiation. So keep in mind that you need a higher wattage per square meter for the same effect. Our best Black Heat infrared panels are the Sunred Heater Nero Wall Hanging 2400 patio heaters
Our infrared lampshade emitters 2 in 1 lamp and heating 2 in 1
Sometimes it is also the intention to use the infrared pendant radiator as a lamp. The Bright Artix and the Sunred Heater Sirius pendant radiator in black are infrared pendant radiators that also have a lamp at the bottom. This makes them very suitable as lampshade IR radiator / lamp.
An overview of the lampshade IR pendant radiators
5. Which design should I choose for my infrared patio heating?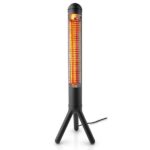 There are both beautiful retro design IR radiators for the terrace and modern infrared terrace radiators such as the Heat Up by Eva Solo as in the picture. Also the "heat strips" or Black Heat IR patio heaters are an awful lot modern and sleek design.
You can also attach the Sunred Heater Nero Wall to the ceiling with a chain, which makes for a very nice sleek modern infrared radiator. There are also nice design table IR models.
The design and looks have gained in importance. Where in the past there was mainly attention for the functionality in function of the catering terrace. Because the electric infrared heating for the terrace can now often be found on a private terrace, more attention is being paid to the design of the radiator. The Bright Indus standing radiator is a very good example of this. This retro design IR standing radiator for the terrace is even a real eye-catcher.
An overview of our IR design heating
Comparative diagram of the infrared radiators